How can we produce sustainable products and services for a more environmentally conscious future? What role engineers can play, and how can simulation help? At a recent virtual roundtable hosted by ESSS and moderated by Dr. Ahmad Haidari, three representatives with extensive industry experience shared their perspectives on engineering, technology and sustainability.
Here, we summarize the presenters' talks and share their key ideas.
Participatory Technology Development

Dr. Marcelo Precoppe, Crop Postharvest Technologist – University of Greenwich
Technology can be sustainable in three ways: Economic, environmental, and social. Combining technology and sustainability in agriculture, for example, can improve people's lives—a social benefit, especially for rural populations.
With what's called "participatory technology development," various stakeholders are involved in the development of a product, including the product's users, manufacturers, and engineers. An open dialogue among all participants makes it easier to visualize, incorporate feedback, and try ideas. Simulation, especially particle simulation and the related multiphysics capabilities, are powerful tools in this process.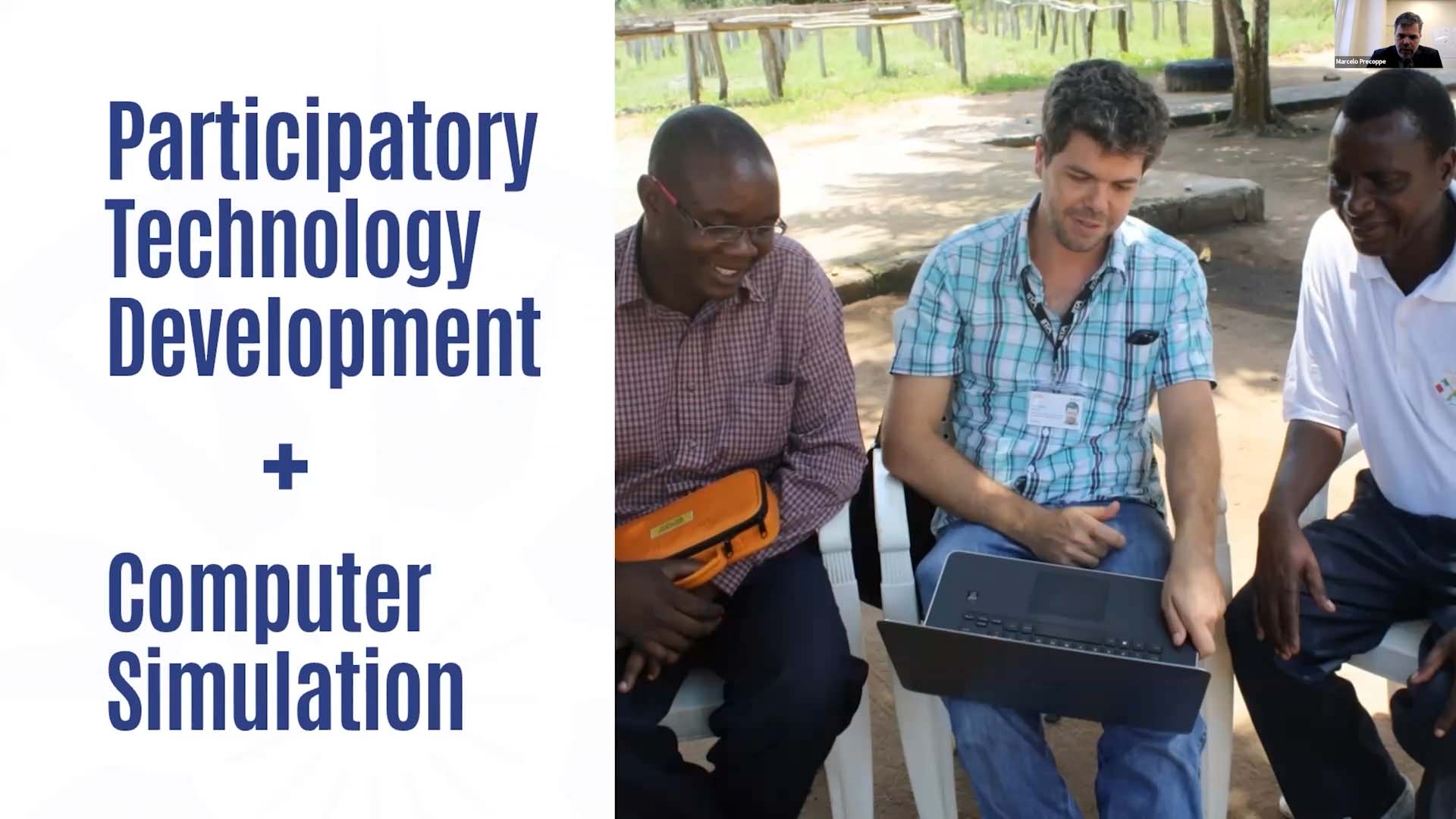 Dr. Precoppe described cassava processing as an example of this type of sustainable product development. Cassava is a key source of food, but the roots are highly perishable, and seven separate steps—including washing, grating, pulverizing, and milling—and several machines are needed to make cassava into flour. The existing processes are disjointed, expensive, and/or very inefficient. A single machine that can be understood and operated by many users is needed; specifically, a machine that can grate, pulverize, and mill the cassava would be a huge improvement and would help with concerns locally, combining technology and sustainability.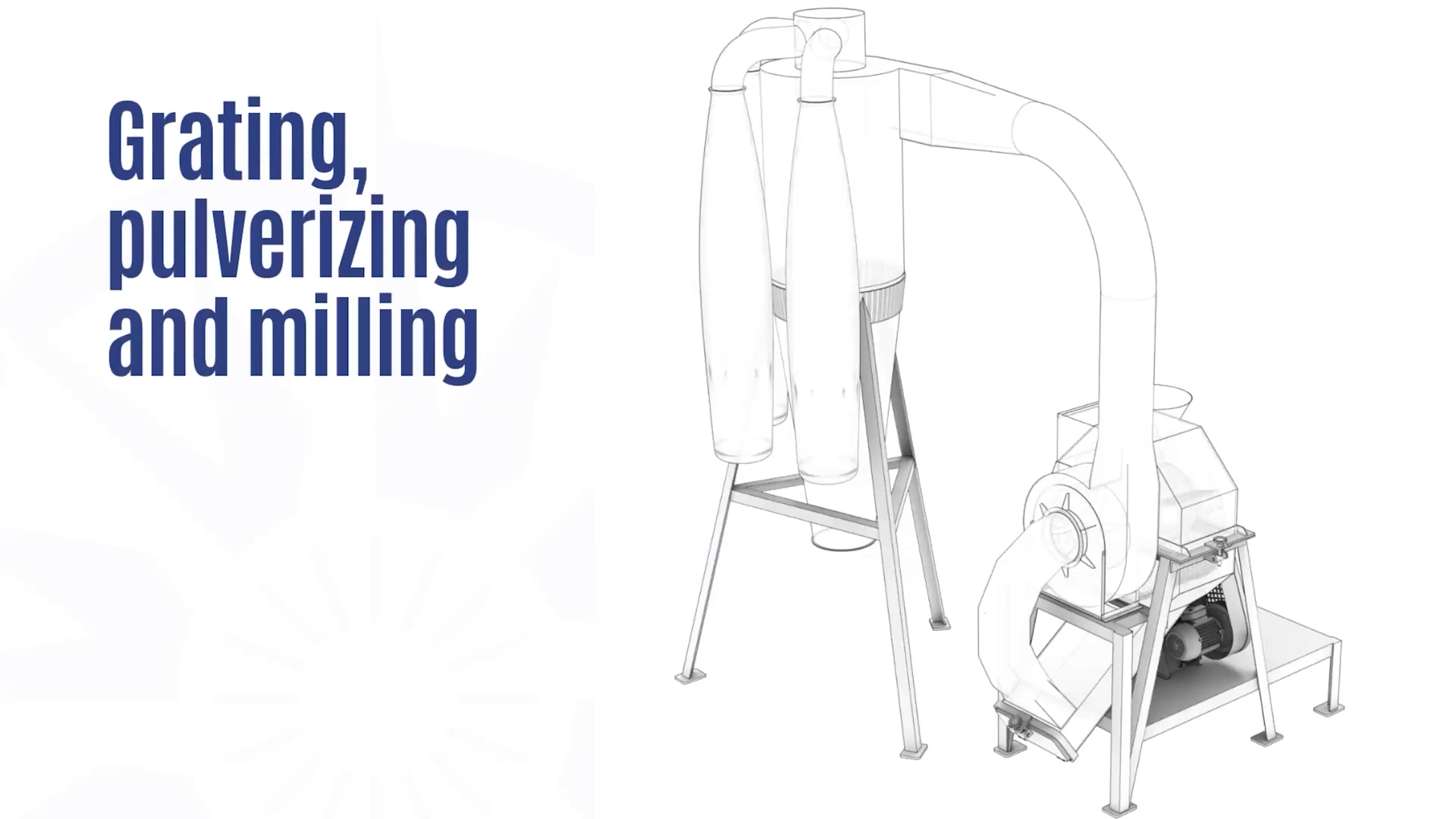 Using DEM coupled with CFD, a prototype was developed with a local shop and with feedback and involvement from local people in Ghana. The cassava dewatering press and a dryer were also improved. People working with cassava in Ghana can locally manufacture and repair the new equipment themselves.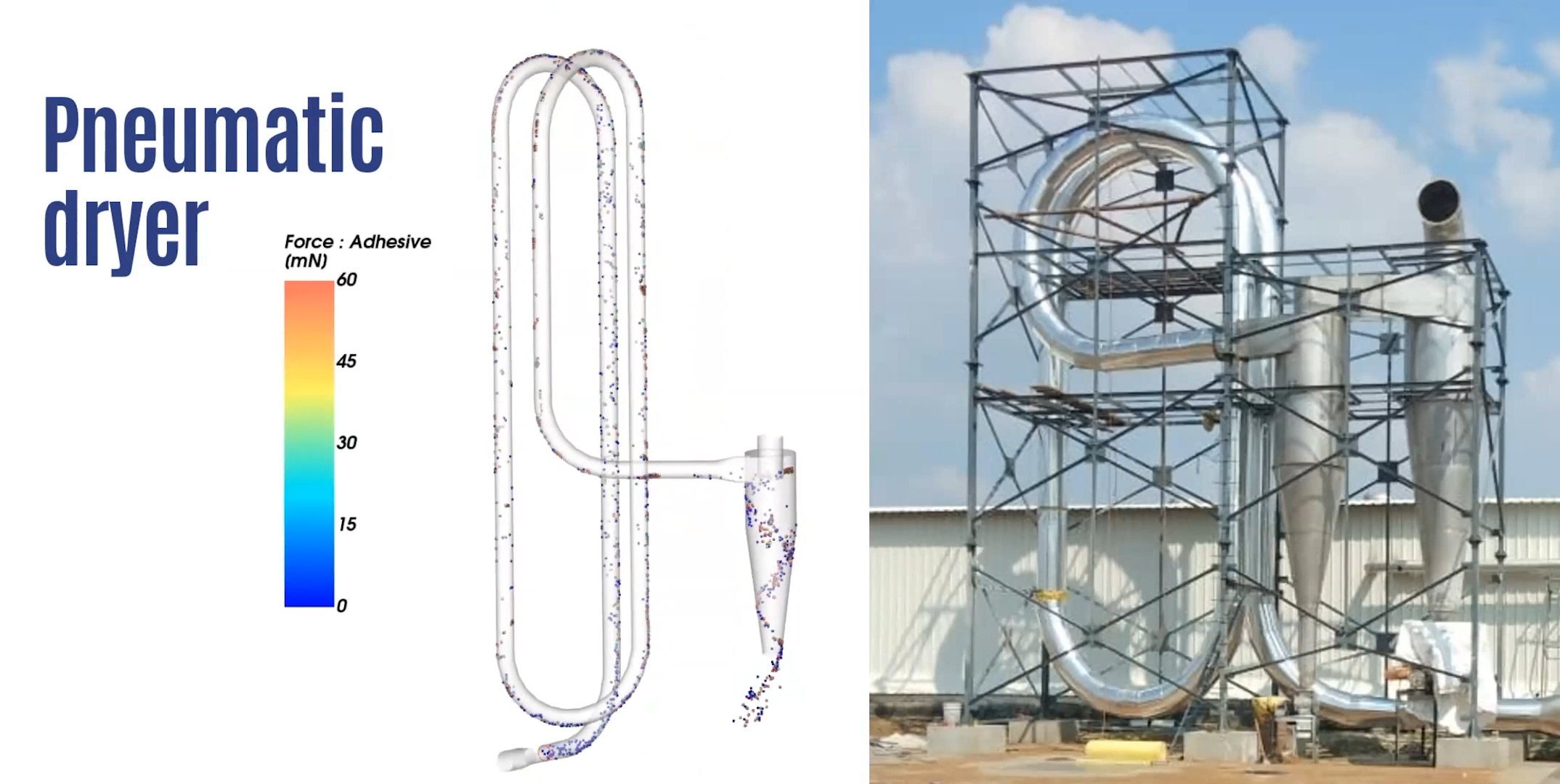 Biofuels and Green Chemicals

Micael Boulet, Numerical Group Lead – Enerkem
Many of us believe it is possible to develop more products and processes that are more environmentally sustainable. While it is believed that fossil fuels contribute to global warming, these fuels and products are used in all kinds of items that we need every day. It is therefore important that we develop processes and materials to reduce the impact of human activities on the planet.
It makes sense to create biofuels and green renewable chemicals, Dr. Boulet explained. Sustainability can also come from improvements to the product life cycle, such as in raw material harvesting, processing, manufacturing, and distribution. The ultimate goal: Keep greenhouse gas emissions as low as possible.
Enerkem's contribution is to recycle the non-recyclable, and in doing so, to solve two sustainability challenges: to develop better waste management and to reduce CO2 through decarbonization.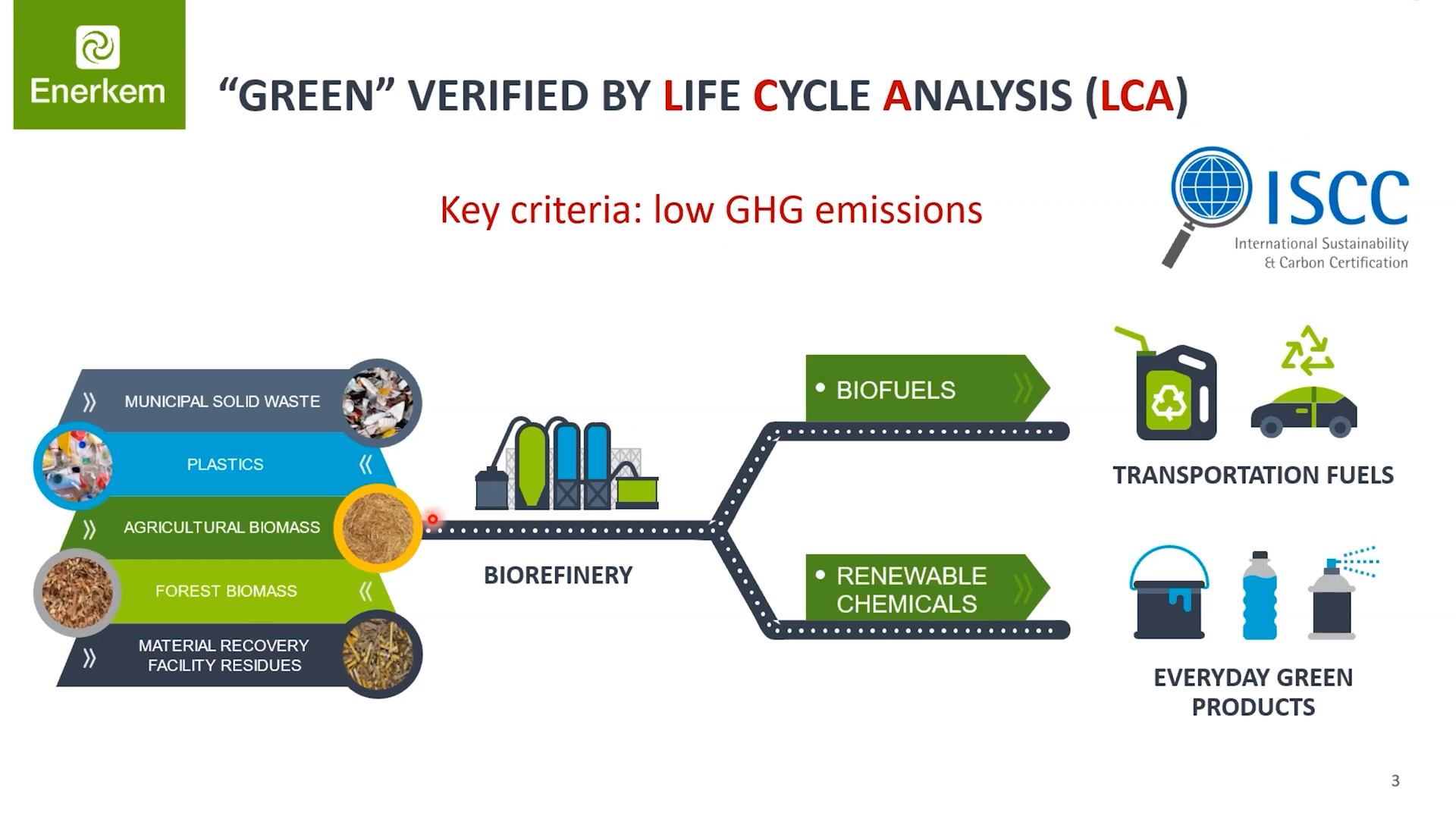 With Mechanical Biological Treatment (MBT), municipal waste can be separated into recyclable and compostable for revalorization, but there will still remain an important reject fraction. The latter, rich in heterogeneous carbonaceous material, like cardboard, paper, and plastic, still contains lot of carbon and energy. Enerkem has developed a thermochemical technology that can convert such reject fraction into biofuels and green chemicals.
This proprietary process uses gasification and syngas conditioning to produce H2 and CO, which are then transformed into fuels and other products. This isn't just an abstract idea — it's happening now at Enerkem's first commercial plant in Edmonton, Alberta, Canada. The plant has been certified by the International Sustainability & Carbon Certification (ISCC).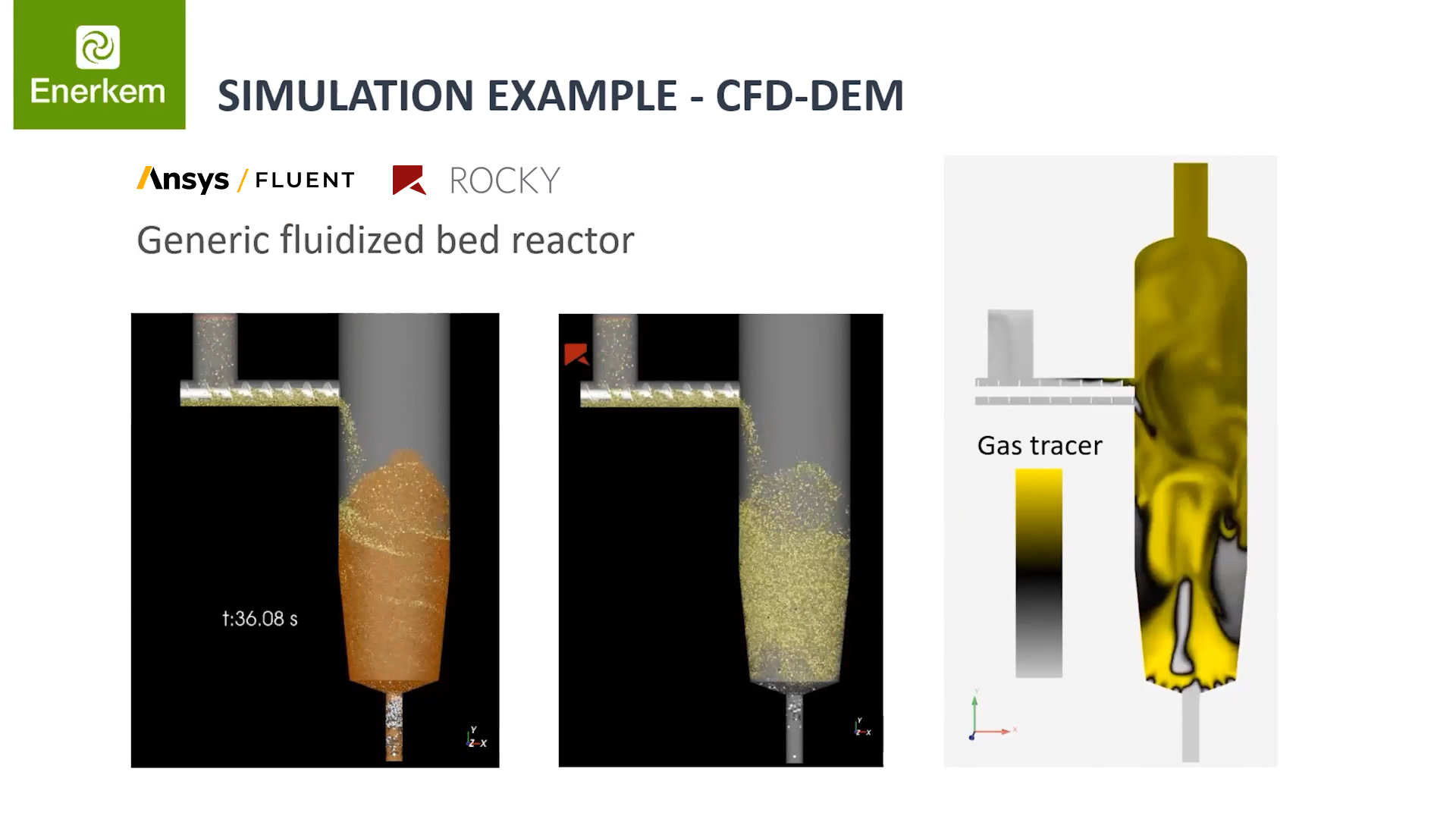 Simulations were performed to learn about carbon recycling processes and optimize them. At Enerkem, they used simulation (Ansys Fluent combined with Rocky DEM) to optimize a fluidized bed reactor.
Circular Economies in the Building Construction Industry

Dr. Jorge Ferreira, Rocky DEM Director, CADFEM GmbH
There is substantial opportunity in the building and construction industry to reuse and recycle many types of building materials. Germany alone consumes 100 billion tons of material and generates 218 million tons of waste a year, with only about 12.5% being part of the circularity (i.e., reused). Globally, the building industry's material has just a 9% circularity rate.
A circular economy is important for all businesses, and it is especially important in the building industry. By increasing the material recycling rate, reducing the amount of raw material used, creating new processes, and optimizing unit operations, circularity can be improved in this industry, according to Dr. Ferreira. He noted that he's defining recycling here as not just materials being reused, but being reused so that the quality of the recycled product remains the same, as opposed to "downcycling," in which the recycled product is of lower quality or has less functionality.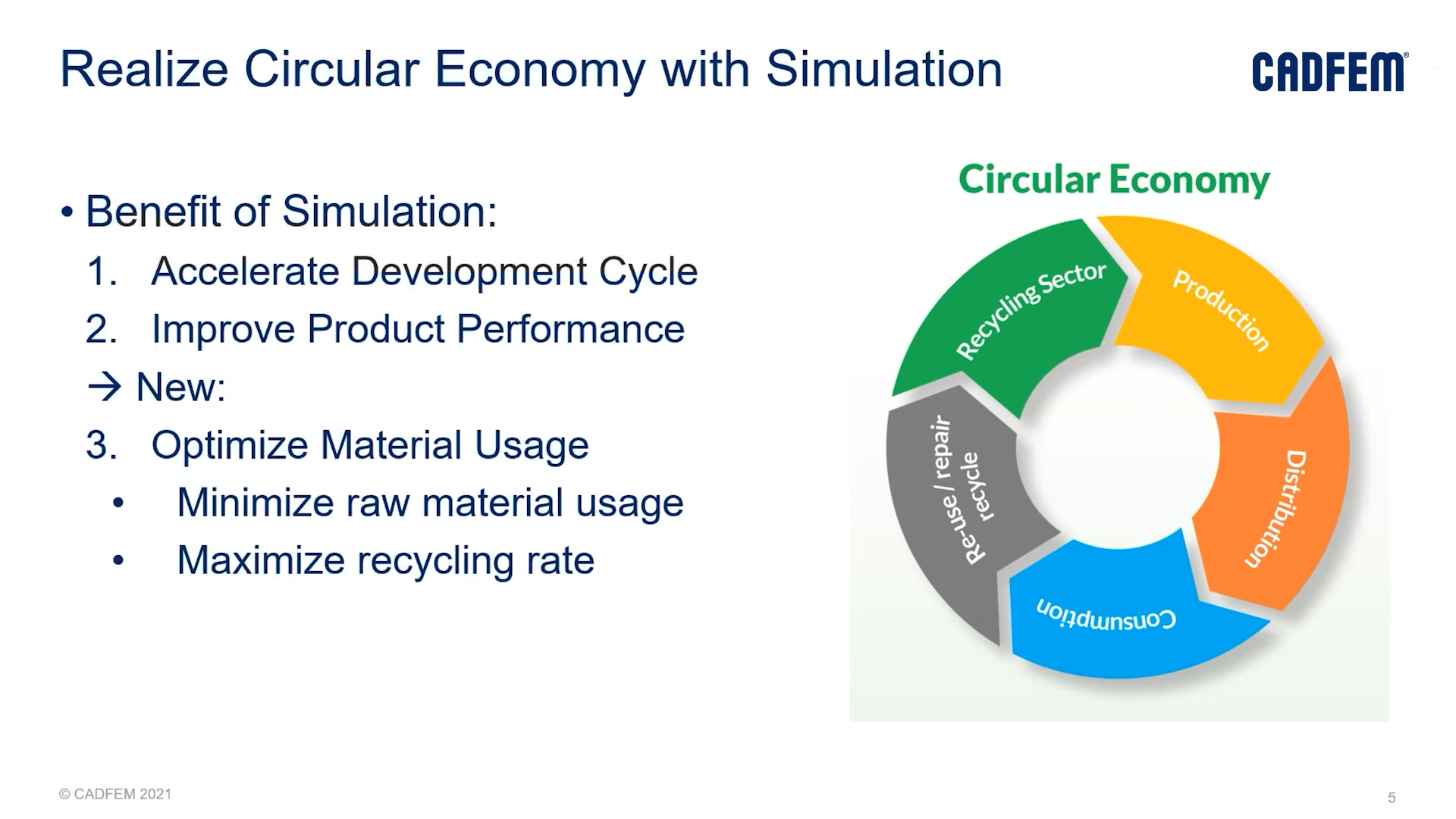 Digital simulation tools have improved many industries, Dr. Ferreira noted, and simulation can benefit a circular economy in several ways, such as by analyzing and then optimizing each unit's operation in materials processing. For example, simulation can examine the energy consumption and output of crushing machines in order to maximize the recycle rate. Simulation could also help maximize the capacity and reduce the blockage on a conveyor, which could improve equipment efficiency and also enhance the quality of the material to be recycled.
Summary
Involving all of a product's stakeholders–users, engineers, and manufacturers–can help engineers design a product that's sustainable and socially beneficial to local communities. CFD coupled with DEM simulation can allow engineers, with feedback from users, to design the best equipment for a given process, such as cassava processing machines.
Lowering greenhouse gas emissions is important to minimize climate change. Products with low emission over their full life cycle contribute to this goal, such as producing fuels and chemicals from municipal solid waste. Simulation can provide key insights to improve gasifier reactor, for example.
Finally, embracing a circular economy can help minimize raw material use and maximize material recycling. The building industry offers many opportunities to do so: Simulation can analyze equipment to improve efficiency and the quality of the material to be recycled. Energy consumption and output can also be improved via insights gained via simulation tools.
Contact us today if you'd like help improving the sustainability and environmental impact of your products via simulation.