Agriculture Equipment
Test your equipment using particle simulation and enhance the efficiency of your agricultural processes. Rocky DEM is used the world over to help companies optimize their bulk agricultural materials.
Overview
Rocky DEM provides the data you need to predict particle behavior in agricultural equipment.

Understand particle behavior with precision and accuracy. Rocky DEM also provides a unique tool for engineers and designers to reduce the negative impact of variability in the bulk flow characteristics of feedstock, which can help increase productivity.

Applications
Applications
Fertilizer Spreader, Soil Tillage and Harvester
Rocky DEM has been used by companies all over the world to simulate the action of bulk material in fertilizer equipment.
No coupling required for drag forces

Simulate drag forces without the need to couple with any other software.

Predicting design changes

Track particle trajectories to predict how changes in design affect the fertilizer distribution on the soil.
Fertilizer Spreader Machine
Conveyors
Any type of conveyor process can be simulated using Rocky DEM, helping engineers and designers develop solutions in a better way.
Import and replicate custom components

Easily import conveyor geometries and profiles, replicate plates and buckets, and simulate complex motions—all within the Rocky program.

Measure capacity and power draw

Advanced post-processing features enable you to measure how important criteria like power draw are affected by belt speed and mass flow rate, which can help you optimize the system's capacity.

Evaluate wear

See at-a-glance how shear and impact forces affect the surface of the geometries and belts.
Variable Pitch Screw Feeder
Storage Silos
Rocky DEM is beyond the economy and safety for silos in agriculture. Rocky has predictive powers that provide accurate and invaluable data in particle simulation.
Analyze the Structure

By exporting Rocky's particle forces to FEA tools such as ANSYS Mechanical, you can analyze whether your design can withstand the pressures and stresses of the material being stored.

Evaluate Different Materials

Rocky enables you to evaluate how different material types, sizes, densities, frictions, and adhesion forces affect attributes like storage capacity.

Compare Designs

Test how different wall heights, shapes, and building materials perform at different times during the loading and unloading processes to develop the most efficient silo design for your storage needs.
---
WEBINAR
Designing agricultural equipment using Rocky DEM simulation
Why use Discrete Element Method (DEM) in your design process?

Learn how to use Rocky DEM software in your agricultural design processes, giving you crucial insight and confidence.

Application examples

Discover how to optimize a wide range of agricultural applications by improving the equipment design with real-world examples.
WATCH NOW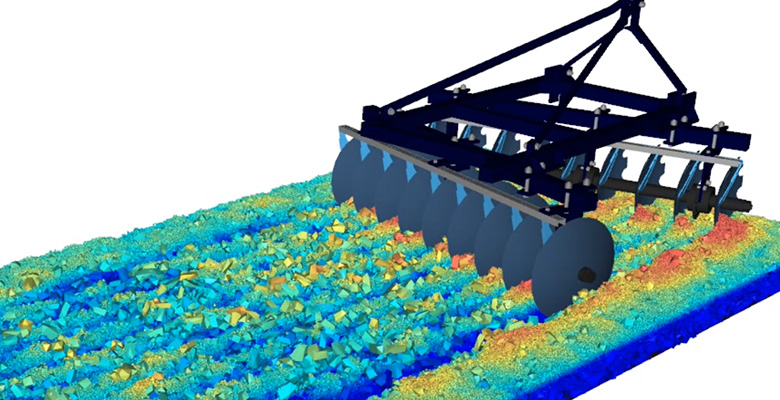 Other resources
A compilation of special content prepared by our team of experts that will guide you on the best path to success.