Agriculture Equipment
Test your equipment using particle simulation and enhance the efficiency of your agricultural processes. Rocky DEM is used the world over to help companies optimize their bulk agricultural materials.
Overview
Rocky DEM provides the data you need to predict particle behavior in agricultural equipment.
Understand particle behavior with precision and accuracy. Rocky DEM also provides a unique tool for engineers and designers to reduce the negative impact of variability in the bulk flow characteristics of feedstock, which can help increase productivity.
Applications
Applications
Soil tillage, fertilizing and seed spreading
Companies all over the world use Rocky DEM to simulate soil preparation and tillage as well as investigate efficiency and robustness of seed and fertilizer spreaders.
Accurate particle representation

Rocky DEM's real-particle shape representation enables accurate soil modeling and seed behavior under a wide variety of conditions.

Adhesion modeling

Various adhesion models offer efficient approaches to analyze tillage for different soil types and environmental conditions.

Faster results

Advanced computing methods and multi-GPU capabilities provide faster and better results.

Add complex motions

Simulate complex, combined and free-body motions using Rocky DEM's fully integrated motion kernel.
Fertilizer Spreader Machine
Excavator bucket simulation
Crop Harvesting
Rocky DEM's flexible-fiber shape representation and complex motion capabilities provide insight critical to evaluating harvester equipment under different operational conditions.
CFD-DEM coupling

Rocky–Ansys Fluent coupled simulations enable analysis of convective heat transfer between particles and fluid.

Flexible fibers

A flexible-fiber particle model mimics crop-specific behavior — such as hay, wheat sugarcane — that includes breakage and stem plastic deformation data.

Multi-GPU processing

Leverage multi-GPU capabilities to handle huge cases with millions of particles.

Add complex motions

Simulate complex, combined-geometry motions using Rocky DEM's fully integrated motion kernel.
Hay baler machine simulation
Harvester simulation using Rocky DEM
Hay tedder machine simulation
Storage Silos
Couple Rocky DEM with Ansys mechanical and fluid tools to study silo issues related to particle segregation, blockages, motion, and equipment failure. Unique flexible-fiber particle shapes provide the key to accurate simulation.
Minimize segregation

Study sifting segregation in detail during the silo-filling process to achieve a more efficient flow-pattern design.

Analyze the Structure

Rocky DEM integrates seamlessly with Ansys Mechanical to predict if a design can withstand the pressures and stresses of siloed material.

Evaluate Different Materials

Stay ahead of equipment failure. Rocky DEM evaluates how different material types, size distribution, and adhesion forces affect silo flow pattern.

Multi-GPU processing

Leverage multi-GPU capabilities to handle huge cases with millions of particles.
Conveyors
To avoid material losses and minimize wear, enhance conveyor equipment reliability by modeling different operational conditions and materials.
Measure capacity

Optimize system capacity by evaluating the impact of belt speed, mass flow rate, and specific materials being conveyed.

Evaluate wear

Immediately visualize how shear and impact forces affect geometry and belt surfaces.

Import and replicate custom components

Easily import and replicate conveyor geometries to simulate complex belt patterns, particularly those that keep a load from slipping at steep angles.
---
WEBINAR
Designing agricultural equipment using Rocky DEM simulation
Why use Discrete Element Method (DEM) in your design process?

Learn how to use Rocky DEM software in your agricultural design processes, giving you crucial insight and confidence.

Application examples

Discover how to optimize a wide range of agricultural applications by improving the equipment design with real-world examples.
WATCH NOW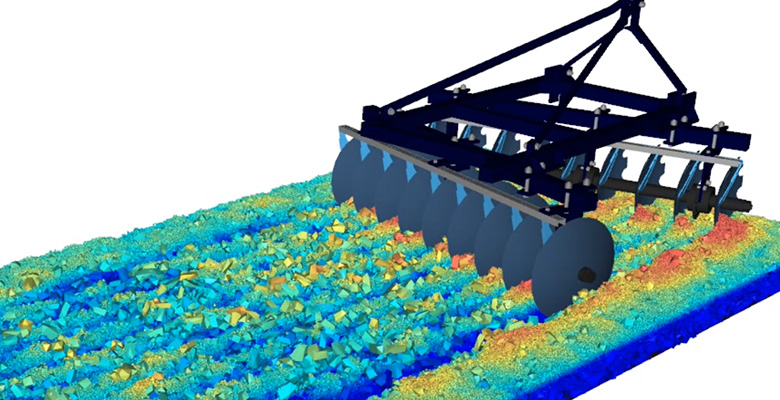 Other resources
A compilation of special content prepared by our team of experts that will guide you on the best path to success.