Heavy Equipment
Discover the benefits Discrete Element Method (DEM) simulations can offer the heavy equipment manufacturing industry as a powerful tool that uniquely simulates and analyzes the behavior of bulk materials.
Overview
Increase heavy-equipment production capacity and longevity by understanding how the materials it excavates, harvests, and transports affects composition and function. Rocky DEM embeds powerful capabilities that simulate and analyze complex bulk-material behavior, from flow to breakage to motion, in harsh environments and operating conditions.
Applications
applications
Excavators
Rocky DEM's capabilities investigate complex granular flow and particle-equipment interaction, leading to a better understanding of how different materials affect excavator and bucket designs.
Analyze the Structure

Coupled Rocky–Ansys Mechanical simulation accurately predicts stresses and deformations on equipment specific to the material being excavated.

Evaluate wear

Increase equipment lifetime by analyzing how shear and impact forces affect surface.

Adhesion modeling

Rocky DEM's adhesion models predict excavation performance for different materials and environmental conditions.

Faster results

Advanced computing methods and multi-GPU capabilities provide faster and better results.
Dump Trucks
Rocky DEM particle simulation is the best solution for designing, testing, and optimizing dump trucks and other similar transport vehicles.
Reduce the load cycle

Understand how to trim the body mass and reduce fuel usage by simulating your equipment designs in Rocky DEM.

Analyze the structure using FEA

Rocky DEM can help you identify wear zones and extend the life of your components when coupled with finite element analysis (FEA) tools like ANSYS Mechanical.
Dump Truck discharging different materials
---
WEBINAR
Structural optimization of material handling equipment using Rocky DEM and ANSYS Workbench
Integration workflow (Rocky DEM and ANSYS Workbench)

Rocky DEM with ANSYS Workbench allow further design parameterization in ANSYS SpaceClaim® and optimization using DesignXplorer™.

Case study presentation

Learn how a wide range of industries have benefited from using this method.
WATCH NOW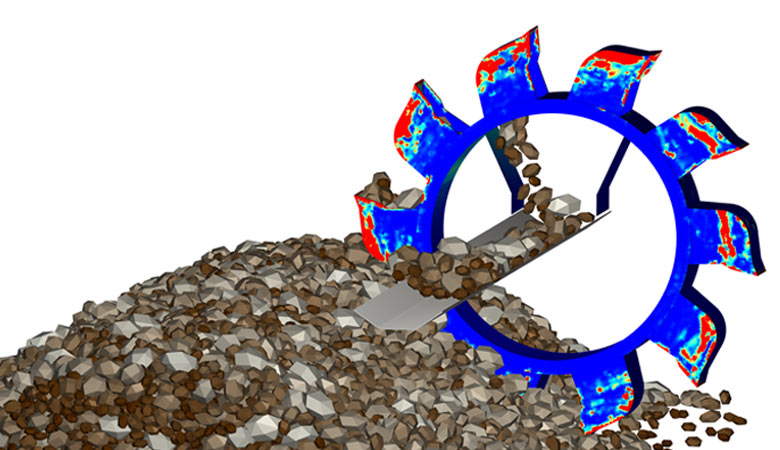 Other resources
A compilation of special content prepared by our team of experts that will guide you on the best path to success.