Mining and Metal
Discover a revolutionary way to enhance mining and metallurgical processes.
Transfer chutes, feeders, mills and crushers are just some of the bulk materials
handling equipment that Rocky helps engineers evaluate and optimize.
Overview
Major companies in the mining, mineral processing, and metals industries use Rocky DEM to optimize the performance of their bulk material handling equipment.
Rocky DEM simulates the behavior of a wide range of bulk materials, enabling engineers to analyze the flow of these materials through each segment of their equipment or operation.
Applications
applications
Mills and Crushers
Media flow patterns, energy absorption rates, particle breakage, liner wear, and large size distributions are some of the many criteria that can be analyzed using Rocky DEM.
Create and preview complex geometry motions

Never has it been easier to replicate your exact rotating, crushing, swinging, vibrating, translating, or free-body movements.

See surface wear modify your geometries in 3D

Rocky DEM can predict how particle interactions might change the physical appearance of your geometries in 3D as they wear down over time.

Recycle material through parallel planes

Rocky DEM's periodic boundaries enable you to easily simulate smaller cross-sections or slices of your equipment geometry by recycling particles exiting from one side of the section back into the simulation from the other side.
Shredder Fragmentation Process
Mill: DEM+CFD Moving Domain Capability
Transfer Chutes and Elevators
Rocky DEM software is a revolutionary way to simulate how material flows through various transfer chute environments.
Import 3D CAD models

Using 3D CAD models of the various chute components, Rocky DEM calculates how each individual particle interacts with each material and boundary surface, providing a realistic prediction of how the transfer point is likely to function.

Use built-in feed and receiving conveyors

Rocky includes fully-customizable default geometries for feed and receiving conveyors, enabling you to keep your design focus on your chute components.

Visualize wear using color mapping

See at-a-glance how shear and impact forces affect the surface of the geometries and belts.
Transfer Chute Rocky & ANSYS Mechanical
Transfer Chute with Wet, Sticky Material
Transfer Chute Showing Shear Wear
Chute Plugging Simulation
Chute Discharging onto a Conveyor Belt
Screening and Sorting
Large scale industrial screens are used to separate particles by size into multiple product streams. Their performance in terms of throughput and screening efficiency is of vital economic and industrial importance and in many applications, can be a limiting factor in the overall efficiency.
Rocky's Discrete Element Method (DEM) predictions of flow and separation

Helps engineers evaluate screening performance, mass flow distribution, force distribution, and surface wear.

Coupling with an external FEA Solver

Coupling with an external FEA Solver (ANSYS), Rocky DEM can also identify resonance and operational problems within the equipment.
Tumbler Screening Machines
Roller Screen sieve designed by Vale Carajas
Vibrating Screen Analysis with ANSYS and Rocky Coupling
Vibrating Screen with Three Sizes of Separation
---
Article
Predictive Optimization of
SAG Mill Wear Using Rocky
Evaluate changing process variables

For example, speed and fill level, or a new lifter design that incorporates changed face angle and height with a high degree of accuracy.

Do not waste time

Mining companies can realize significant cost savings only by slowing peak wear rate without compromising throughput.
EXPLORE
WEBINAR
Improving Performance in Mining Equipment
and Processes
Why use DEM to optimize equipment

Learn how Rocky DEM software can be used to achieve critical R&D targets, such as significant cost reductions and product/process development improvements.

ANSYS Integration

Learn how to achieve structural optimization by coupling Rocky DEM and ANSYS Mechanical™, and gain insight into fluid field and thermal properties by transcoupling Rocky DEM with ANSYS Fluent® (CFD).
Watch Now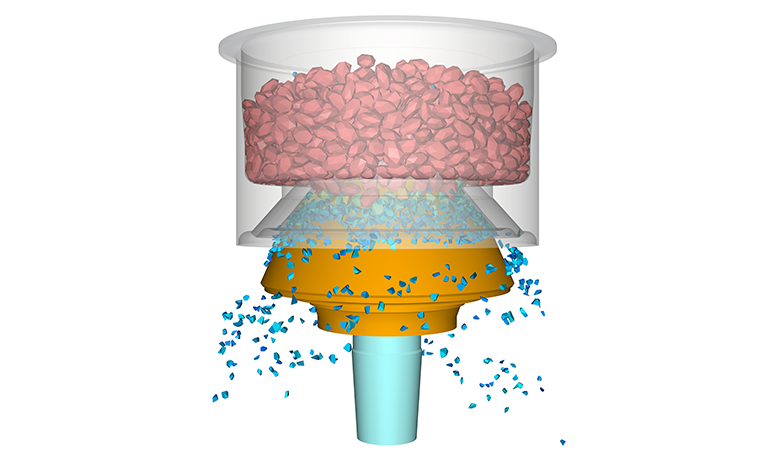 Other resources
A compilation of special content prepared by our team of experts that will guide you on the best path to success.