Process Equipment
Explore new possibilities to enhance your processing efficiency. Rocky DEM is being used to improve everything from drugs to food, and from specialty chemicals to biofuels.
Overview
Rocky DEM is the most powerful solution for companies in the food, pharmaceutical and chemical industries to optimize the performance of their processing equipment.
Rocky DEM enables processing industries the world over to accurately simulate and analyze the behavior of bulk solids, boosting their performance.
Applications
applications
Coating
Simulate real-scale equipment by using custom polyhedral, shell and fibers particles to model coating of pills, tablets, the seasoning of chips and nuts and the homogeneous covering of chocolate and candies.
Polyhedral elements

Predict the dynamic behavior of a bulk material accurately. No more artificially bumpy surfaces that can significantly affect particle dynamics.

Contact statistics

Improve your design in order to reduce breakage by analyzing contact statistic data.

CFD coupling

Run coupled simulations and take into account the hot/cold air flow in the coating process.
Drying and Heat Exchange
Rocky DEM particle simulation is the best solution for simulating the conductive and convective heat exchange and drying process of bulk materials.
Rocky-Fluent coupling

Rocky DEM integration with ANSYS Fluent in order to analyze the convective heat transfer between particle and fluid.

True physical representations

Increase the accuracy of your simulation by using realistic particle shapes.

Multi-GPU processing

Make use of the multi-GPU capabilities to handle huge cases with millions of particles.
Heat Transfer of a Hot-air Oven
Controlling Discharge
Rocky DEM is able to simulate a real bulk flow regulation, helping to control the flow rate to a level more suited to the process.
Improve the hopper discharge

Rocky DEM is widely used to evaluate the discharge flow pattern of hoppers helping engineers to eliminate the stagnant zone, mitigating problems related to degrading material.

Evaluate your feeder and valves

Optimize your valve or feeder designs and get a uniform drawdown from the hopper.

Realistic particle shapes

Predict accurately the dynamic behavior of a bulk material by using polyhedral or shell particles.
Packaging process
Evaluate and improve the packaging process with custom imported particles shapes simulating scenarios such as snack chips being filled in a bag.
Real-world simulations

Perform virtual experiments on your product lines and simulate the world in real life, with true physical representations.

Faster results

Discover how advanced computing methods and multi-GPU capabilities can provide you with faster and better results.
Mixing Equipment
Rocky DEM simulates with precision and accuracy the efficiency of your mixing and blending equipment, increasing batch sizes and reducing blend times and segregation.
More productivity

Rocky DEM helps to optimize the mixing device design in order to reduce blending time, increasing productivity.

Upscale your equipment

Use DEM to evaluate the best upscaling strategy, from lab to commercial scale.

Add complex motions

Simulate complex, combined geometry motions using Rocky DEM fully integrated motion kernel.
---
WEBINAR
Discover how Rocky DEM simulations can help improve pharmaceutical equipment designs
Tablet Coating Operation

Discover how DEM simulations can be used to predict tasks like tablet mixing in a coating operation.

Post-processing capabilities

Examine critical process output parameters for design optimization and risk mitigation during operations, improving pharmaceutical equipment design.
WATCH NOW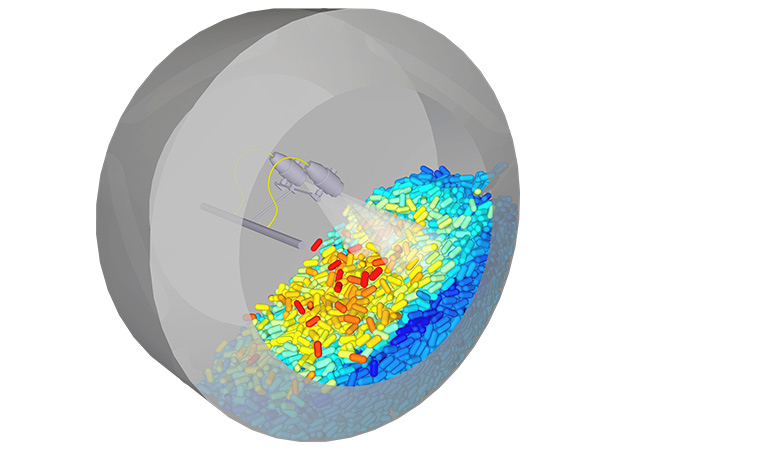 Other resources
A compilation of special content prepared by our team of experts that will guide you on the best path to success.