By Michael E. Thompson, PE, Senior Mechanical Engineer, Conveyor Dynamics, Inc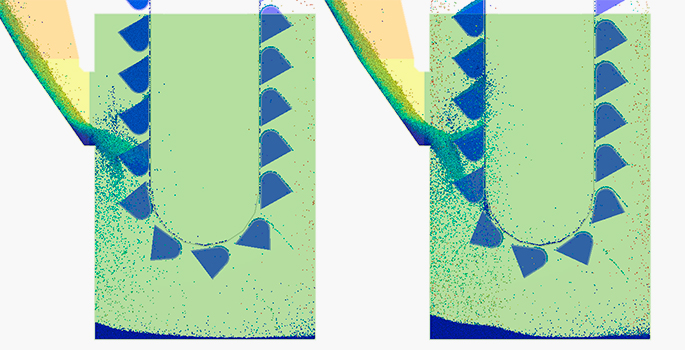 To resolve problems related to a bucket elevator's splice and drive-train failures (due to inlet surge loads), engineers applied Rocky DEM simulation to gain critical insight. In addition, the team analyzed proposed design changes related to belt speed that would increase tonnage.
After thorough analysis, they determined that increasing the bucket elevator's belt speed resulted in detrimental changes to discharge flow — resulting in increased material loss that ended up in the elevator boot section.
Using Rocky, the team visualized, and quantified, power loss due to material flow pressure at the inlet. They also quantified digging power required to clear wasted material from the boot section.
This paper provides details about:
The role of CEMA Bucket Elevator Handbook methodology in performing power, belt-tension and pulley stress calculations
Increasing belt speed to upgrade conveyor belt system capacity
Using cut-down versions of the bucket elevator to reduce computational time without compromising model validity
DEM particle calibration
Material build-up in elevator boot and digging power
Power required for "bucket digging" as the buckets passed through accumulated material in the boot
Bucket fill levels, discharge trajectories and pulley diameters
---