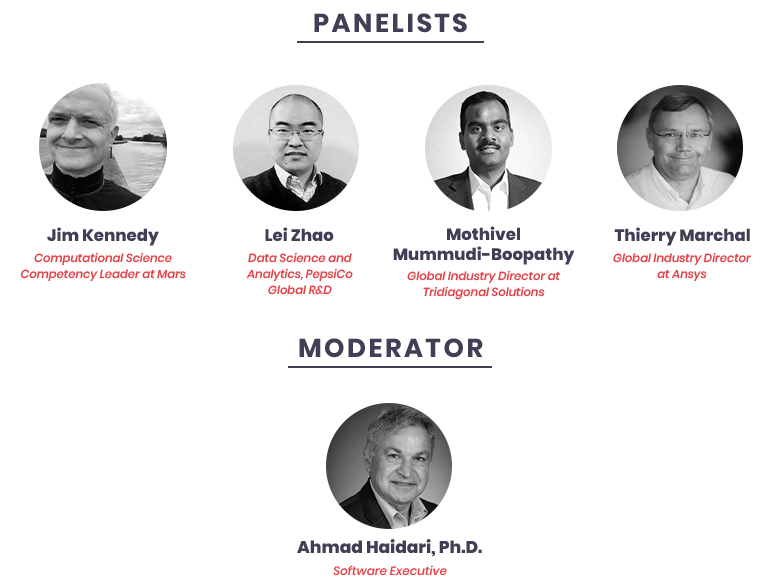 We invite you to join us in a virtual roundtable discussion with experienced engineers and leaders deploying simulation in the food industry.
Increasingly, food and beverage companies are successfully applying modeling and simulation technologies to reduce production costs, optimize food processing, control food quality and design better processing equipment.
This is an opportunity for a conversation and Q&A session related to applications of engineering simulation. The event is designed for engineers, simulation and modeling practitioners, R&D directors, and managers responsible for innovation and manufacturing.
Watch a preview of the session:
---
Jim Kennedy – Computational Science Competency Leader at Mars
Kennedy has over 20 years of experience developing processes and equipment for high-volume manufacturing of consumer products, demonstrating success as a leader of multidiscipline technology-focused delivery groups with an emphasis on strategic technical processes and breakthrough equipment design and development. He holds a BS degree in Mechanical Engineering from the University of Tennessee – Knoxville.
Lei Zhao – Director, Data Science and Analytics, PepsiCo Global R&D
Lei leads the computational science group in PepsiCo R&D, focusing on physics based simulation and computational chemistry applications in food and beverage production and innovation process. Lei received his M.S. and Ph.D. degrees in Mechanical Engineering from the University of New Orleans. Prior to joining PepsiCo, Lei worked for DuPont on polymer production and processing using various modeling and simulation technologies.
Mothivel Mummudi-Boopathy – Global Industry Director at Tridiagonal Solutions
Mummudi holds a Ph.D in Chemical Engineering from Iowa State University. He has a successful track record of architecting science-driven solutions in the food, pharma, and chemicals industry, He served as a Senior Systems Engineer in UTC Power, a Process Development Engineer in Corning Incorporated and, since 2014, leading the development and implementation of modeling technologies/frameworks for business-critical projects across the process industries in Tridiagonal Solutions.
Thierry Marchal– Global Industry Director at Ansys
Thierry Marchal leads the Ansys strategy for health related industries including Healthcare, Food & Beverage and Sports. His mission consists in creating awareness about the benefit brought by Computer Modeling and Simulation (CM&S) and deploy the large scale adoption of digital tools to improve end users safety and maximize processes efficacy by closely interacting with industrial innovators and SMEs, academic leaders and governmental and regulatory authorities such as the FDA (Food & Drugs Administration). Since January 2018, Thierry is the Secretary General of the Avicenna Alliance and eHealth expert to the EU Commission since January 2020. In his 30 years of professional experience, Thierry has worked as the Materials Market Segment Manager with Fluent and Product Manager for Polyflow. Holding a degree in Mechanical Engineering and an MBA both from the Catholic University of Louvain, Belgium, Thierry is the author of more than 100 publications.

Ahmad Haidari – Software Executive
Ahmad.H. Haidari, Ph.D. has close to 30 years of experience in the application of engineering simulation and modeling technology to product development processes.
---