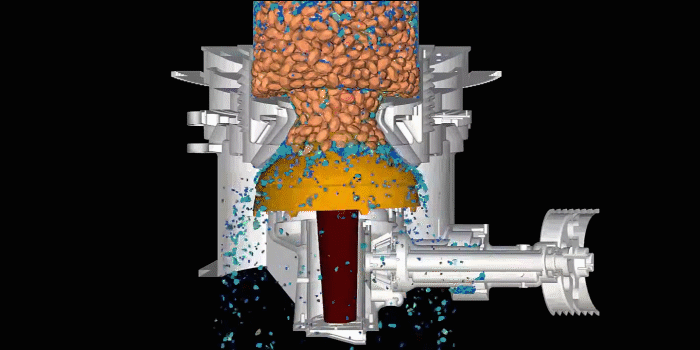 Learn more about how particle simulation can help you improve comminution equipment
Breakage and attrition simulations with reduction of particle sizes are probably the most challenging ones for the Discrete Element Method (DEM).
These simulations involve the reduction of particle sizes and subdivision of particles into smaller fragments, and are necessary to properly describe many industrial processes and devices; for example, a simulation of a gyratory or cone crusher or a high-pressure grinding roll is impossible without physical particle size reduction.
This presentation discusses two possible approaches for DEM breakage simulations. The first one is to create particles out of smaller elementary particles "glued" together by a virtual "glue" that can withstand tensile forces up to a specified limit. The other approach is to treat every particle as a single entity and break it into fragments instantaneously based on force or energy breakage criteria.
The presentation includes:
DEM breakage models: Discrete Breakage (DB) and Instantaneous Fragmentation (IF)

Examples of the use of DB and IF models in industrial applications

Advantages and disadvantages of each model
* This content was presented originally at the 12th International Comminution Symposium, in April 2021, by Luis Tavares (Federal University of Rio de Janeiro), Clovis Maliska (President at ESSS Rocky DEM) and Alexander Potapov (Chief Technology Officer at ESSS Rocky DEM).
---