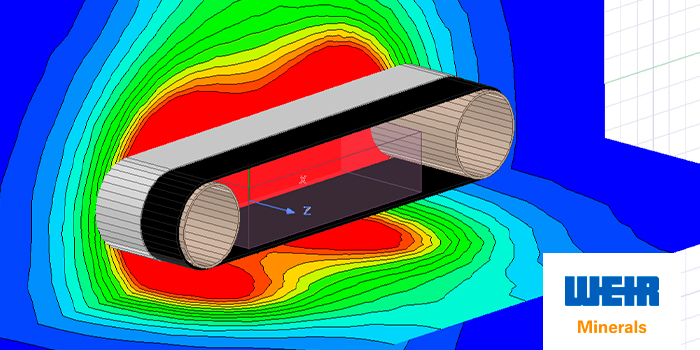 The magnetic separator is used to collect and remove the foreign materials from the bulk flow on conveying belts in order to reduce any possible damage these foreign materials can cause to downstream equipment. The separation is done through permanent magnets and ferrous removal solution, which does not require electric power. The application expands to the material separation in the recycling process and demolition debris. 
Rocky API:Solver offers a customizable solution to expand the core solver with additional models. Discrete element modeling (DEM) performs accurate particle physics, predicting the behavior of non-spherical particles. Incorporating the magnetic force module yields information on the collection of ferrous material by the belt and the efficiency of the self-cleaning functionality as the particles are taken away from the bulk flow stream. 
In this presentation, the magnetic separator is positioned at the discharge end. The magnetic B-field is gathered from Ansys Maxwell and is applied to the Rocky DEM model to determine the magnetic force on the particles which affects the particle's motion.
The presentation includes:
Magnetic separator at the discharge end

Numerical modeling, including Ansys Maxwell and DEM models, and integration through Rocky API:Solver

Simulation results and efficiency analysis
* This study was presented originally at the Engineering Simulation Conference, in November 2021, by Jaco Kotzé, Design Team Leader at Weir Minerals.
---