Published on: May 20, 2020

Gomselmash Holding's immediate goal is to improve energy efficiency and reduce metallic raw material weight/waste in its various harvesters, and, at the same time, investigate structural element loads. In addition, the company plans to apply the Rocky DEM–Ansys solution to enhance resources and durability, increase productivity, eliminate equipment wear, and address issues related to freezing bulk material blockage and loss.
Gomselmash Holding, operating in Belarus since 1930, is one of the world's largest agricultural machinery manufacturers. It produces grain and forage harvesters, cob and potato harvesters, mowers, and other agricultural machinery developed through its own scientific/technical center for combine construction. In view of market competition in the Commonwealth of Independent States (CIS) and Europe, companies in this industry must develop two to three new equipment samples each year to be successful.
The implementation included Rocky DEM particle simulation software — because of its unique capability for analyzing granular media and flexible fibrous particles, including various shapes and sizes — and advanced integration with Ansys multiphysics tools: Ansys Mechanical (FEM) for modeling the stress–strain state of assemblies and structures, Ansys Fluent (CFD) for modeling fluid flow, and Ansys SpaceClaim (included in the Ansys Mechanical suite Enterprise), a CAD package for working with third-party geometric models, preparing models for simulation, and geometric optimization of structures and equipment components.
"As we develop new agricultural equipment, using the Rocky DEM–Ansys integrated solution will provide a complete, realistic picture of the technological process, how components interact, and the combine's working body as a whole system. We can quickly and accurately calculate flow of particles, of various shapes and sizes, as they move in different types of processing and transport equipment. Thanks to this, we will be able to research and optimize agricultural machines even before creating a prototype, determining effectiveness of proposed changes, minimizing material costs, all in a tight time-frame, to ensure efficient performance and the required level of reliability of the equipment being developed," says Alexei Vyrsky, Deputy Director for Research and Development, Scientific and Technical Center of Gomselmash OJSC.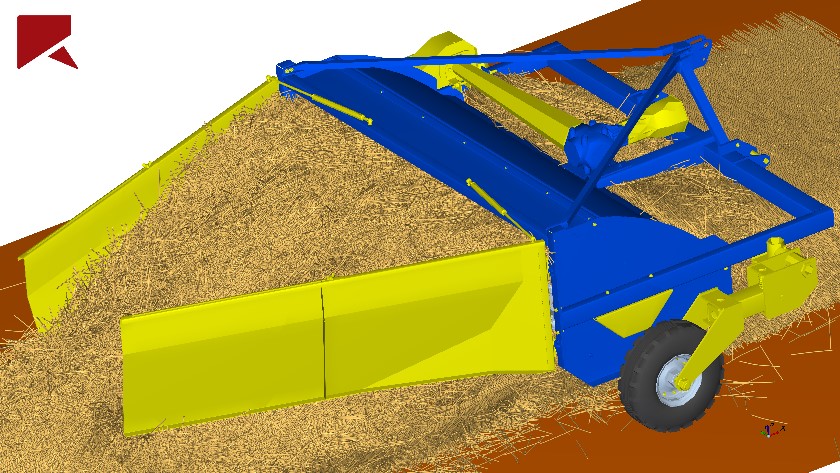 "Working with agricultural engineering — an industry that requires rapid development and high productivity — has been an interesting experience for us. In communicating with the Gomselmash company, we have gone from discussing and proposing one type of software to an integrated solution that includes software tools from different developers and suitable hardware. Integration of Ansys and Rocky DEM software products, modeling processes of various physical disciplines, and their seamless integration are important and necessary for solving complex problems in the era of digital transformation — so developers can search for the best designs and technologies," says Andrey Feoktistov, Rocky's Business Development Director at CADFEM CIS.
"Today the agriculture sector is regularly advancing its investments in simulation solutions. Realistic, accurate particle modeling is now another proven technology for the simulation toolkit. Leading companies like Gomselmash are quick to realize the power of Rocky and other solutions to achieve their design goals," says Rahul Bharadwaj, Vice President, Engineering and Business Development at ESSS.

---
About Gomselmash
Gomselmash Holding is a world leader in agricultural machinery manufacturing, selling its products around the globe to 38 countries. A modern multidisciplinary manufacturer, Gomselmash produces the PALESSE line of combine harvesters, forage harvesters, corn-ear harvesters, potato harvesters, mowers, mobile power tools, and other agricultural equipment. The brand includes 16 types of agricultural machines, 75 basic models and modifications, and 70 adapters/devices designed to harvest various crops. PALESSE equipment operates in Russia, Ukraine, Kazakhstan, the Czech Republic, Slovakia, Romania, Bulgaria, the Baltic countries, Argentina, Brazil, China, South Korea and more. For more than 85 years, Gomselmash Holding has gained credibility as a reliable manufacturer of agricultural machinery. For more details, visit www.gomselmash.by