Published on: November 9, 2020
Today most everyone has heard about digital twins. This solution belongs to the much talked about concept of Industry 4.0. Digital twin technology is aimed at improving and ensuring the smooth operation of industrial equipment. At the MiningWorld Russia 2020 exhibition (Oct 20-22nd,2020) СADFEM CIS presented a digital twin of a grinding mill.
CADFEM CIS is a leader in simulation, and the next step in simulation development is digital twin technology. Nevertheless, it's been only in recent years, thanks to high-performance computing and graphic cards, that engineers have been able to develop and widely use simulation for granular media. CADFEM CIS embraced this innovative technology, and now it operates as the Competence Center for Rocky DEM software and Ansys multidisciplinary software, and also it develops digital twins for industrial enterprises.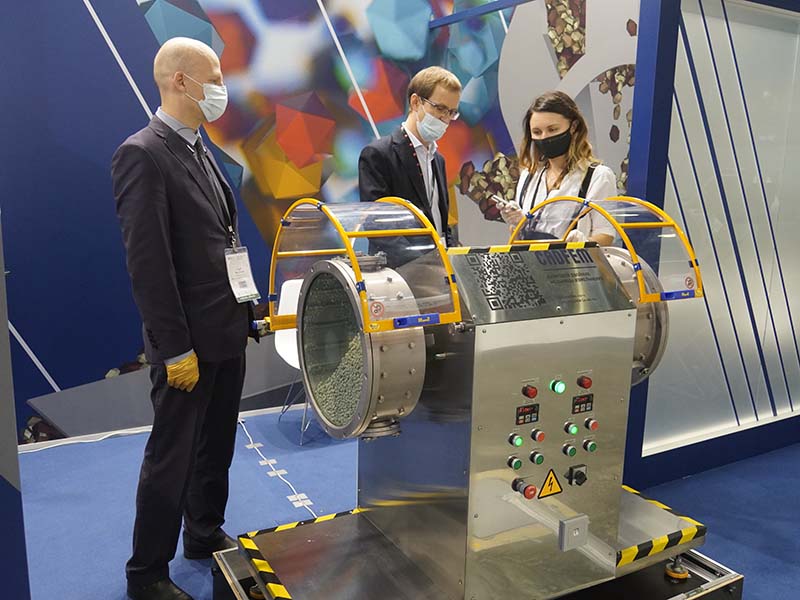 Rocky DEM specializes in systems which operate with material particles. The equipment can be different: mills, excavator buckets, separators, or screening machines. Rocky DEM allows you to obtain accurate and detailed information about the technological process, which in turn can help you improve your operation efficiency, planning, and decision-making. You can even work with a non-existent, virtual object, which is a huge design opportunity. Even when the equipment itself is not available yet, we can find out how it works and how the efficiency will change if we adjust the mode or design. We can make as many design variants as you need, 10, or 20, or whatever amount you want, so that you can choose the best option. A digital twin uses such calculations as the data source, except instead of virtual equipment, digital twins are made for real operating systems.

Andrey Feoktistov, Rocky DEM Business Development Director at CADFEM CIS
At MiningWorld Russia 2020, CADFEM CIS engineers demonstrated a grinding mill unit they'd designed to show methods and scenarios that could increase mill efficiency. The operating task of this solution was developing methods and scenarios that would help to increase the mill efficiency. In addition, the "mill in miniature" presented at the exhibition also showed the capabilities of modern software.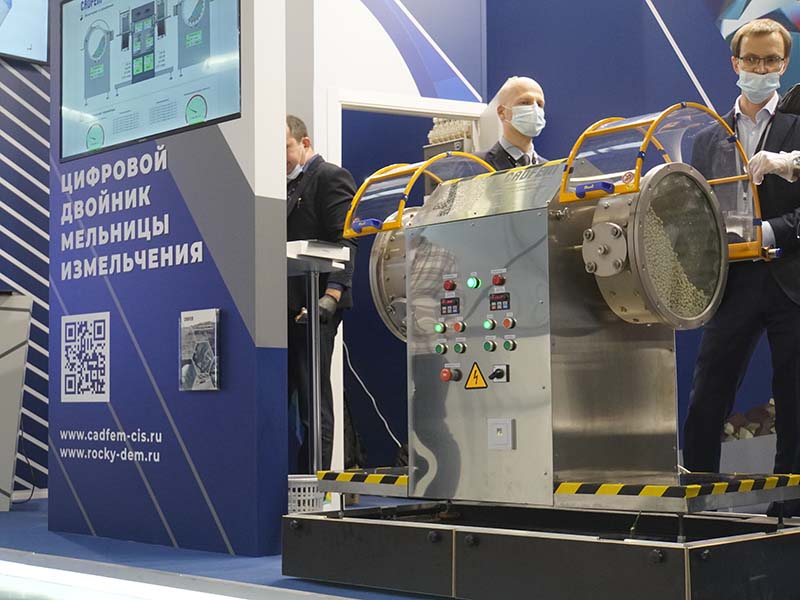 The demo booth testing this technology helps us to confirm and demonstrate the results of our calculations. In addition, this solution helps us to develop our main product – mill digital twins. Our key task is to optimize the operating modes of this equipment so that it works at mining and processing, and at gold recovery plants, as effectively as possible.

Oleg Zolotarev, CTO of industrial automation solutions at CADFEM CIS Digital
How can software help to solve such an ambitious task? CADFEM CIS engineers have demonstrated that clearly. The demo booth consists of two independent drums with separate frequency converters. The mill performance can be optimized by extending the service life of lining elements. So the engineers intentionally installed a lining with a "worn out" profile in one of the drums. Engineers predicted that in such conditions, the grinding process would be less effective. However, when the specialists selected the right mode, even the worn-out system started to work effectively.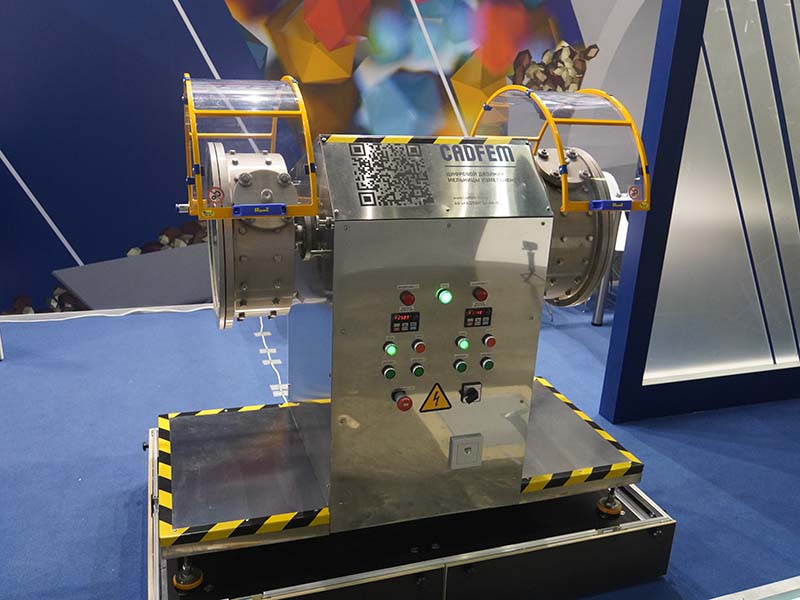 Of course, this is not the only factor, but the frequency of lining replacement has a direct impact on the product cost. Since a mill is energy-intensive equipment, we believe that the most significant way to optimize a processing plant costs is to reduce energy consumption, and we found an opportunity to solve this problem. Overall, with the help of a digital twin, it is possible to reduce a wide range of costs affecting the product's net cost.

Oleg Zolotarev, CADFEM CIS Digital
There is another aspect of Industry 4.0 CADFEM CIS is working on – augmented reality systems. To demonstrate the possibilities of this solution, engineers again used a demo stand. The controller had already been installed, and it began collecting the data on equipment operation, transferring it to the IoT platform. The augmented reality system displayed this data as an image on a tablet. Using this tablet, an operator scanned the demo stand, the system identified the equipment – and its image with all operation parameters appeared on the screen. With this solution, the mill operator can "look inside" the equipment, quickly adjust the operating mode and control it using that very tablet.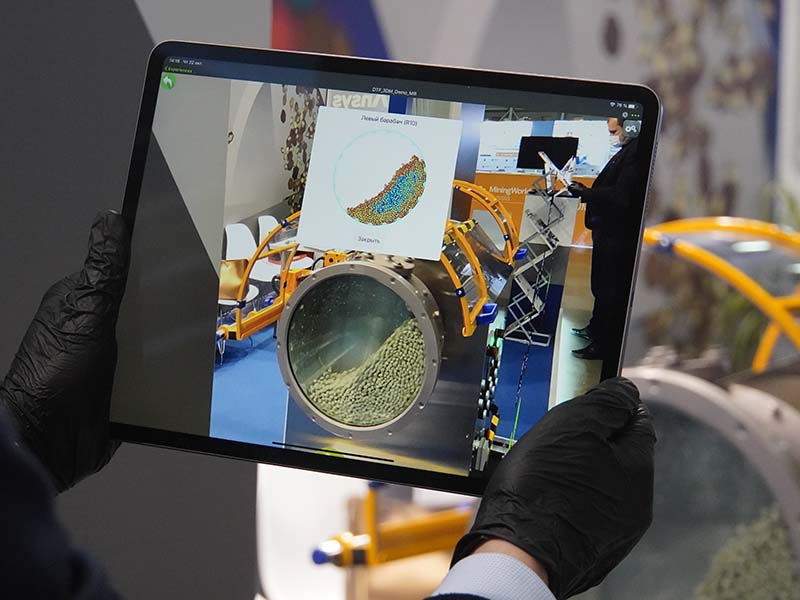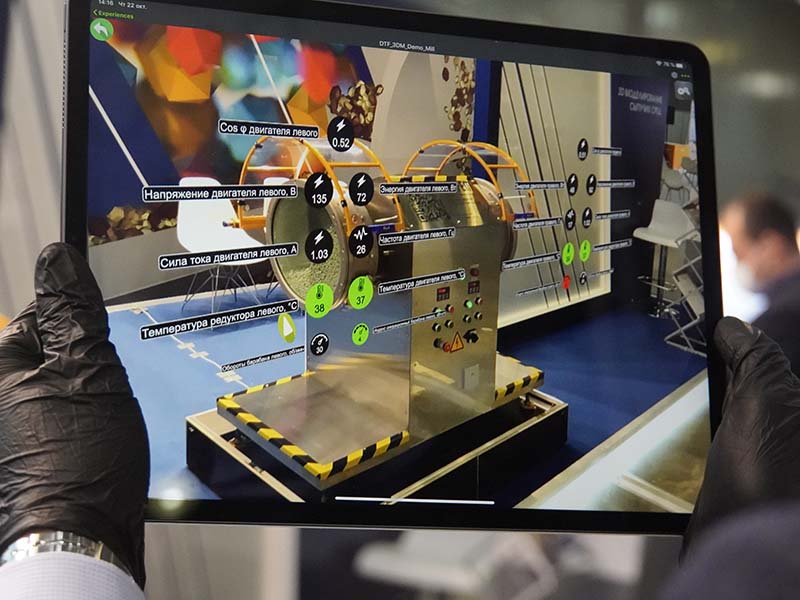 I am sure that these solutions are the future. Production plant specialists have always struggled with this challenge of finding the way to understand the current condition of production processes. Using digital twins that combine simulation and automation systems provides for such an opportunity.

Oleg Zolotarev, CADFEM CIS Digital