Published on: May 28, 2020
Technology development carries a great deal of risk. Processes are often lengthy and resource intensive, with the chance that even after substantial investment, the final prototype may not operate as intended. NRI has embarked on an exciting new partnership with Latin American-based innovative software provider, ESSS – Engineering Simulation and Scientific Software, and CADFEM – ESSS's partner in the UK. It heralds a new era in which NRI scientists will be able to test prototype agri-processing machines virtually, before going to the expense and effort of building them.
An NRI news article describing a prototype solar-powered cassava processing machine prompted initial discussions between technicians at ESSS and NRI's Dr Marcelo Precoppe, a crop post-harvest specialist. As a result, it's just been agreed that ESSS and CADFEM will provide research and teaching licences of its flagship software, Rocky DEM, to the University of Greenwich.
Rocky allows scientists and engineers to create simulations using a method known as the Discrete Element Method (DEM), and any work that NRI or the University does that involves particles or bulk material, can benefit from this.
Dr Precoppe is particularly keen to use Rocky when developing machinery for cassava processing; he explains: "the multipurpose solar-powered hammermill we are currently developing, described in the news article, uses conventional, off the shelf, photovoltaic panels. To make it cheaper, we connected the solar panels directly to DC (direct current) motors and therefore there is no need to use batteries or an inverter to convert the generated DC power to AC power. It's very environmentally friendly."
In the initial design process, Dr Precoppe realised how beneficial it would be to be able to simulate the entire processing method using DEM. However, as the University of Greenwich does not own any software for DEM simulations, he decided to evaluate the best tools available on the market.
Jorge Ferreira, Rocky DEM Business Development Director at CADFEM, is delighted to be able to help NRI and the University. He explains: "our software technology offers state-of-the-art particle simulation and can be applied to provide several applications for agriculture, pharmaceutical, food processing and electronics. DEM evolved from a very basic application used mostly in mining, a heavy industry, to now, when we can use custom particles, even fibres – a very complex shape to simulate – and with that we can predict with very accurate results how equipment like the cassava processing machine will work."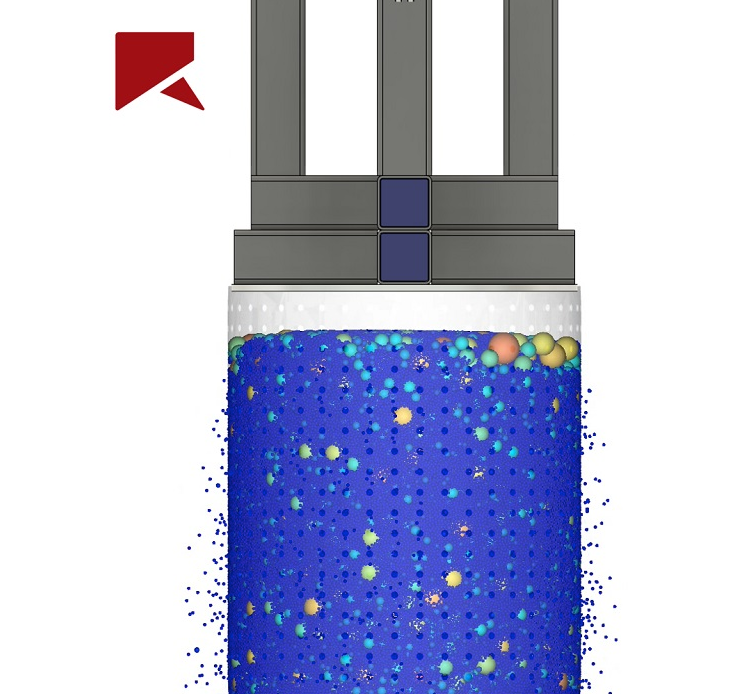 Jorge says that software will allow Dr Precoppe to identify potential failures without having to do a physical test. "It's a virtual lab, where we can test different designs and operating conditions and evaluate how the machinery will work. It basically allows one to optimize productivity before doing a physical test."
Dr Precoppe was especially impressed with the scope of Rocky and its swift integration with Ansys, a US-based multi-physics software developer, and the fact that it can be coupled with computational fluid dynamics, allowing him to account for the interaction of the particles with airflow. He explains: "without the software, I might go through the whole development process and when I try the machine at the end I might only then identify problems and conditions that I'd like to optimize. Sometimes that's not possible once you are on the finishing stretch of a project, it's already too late."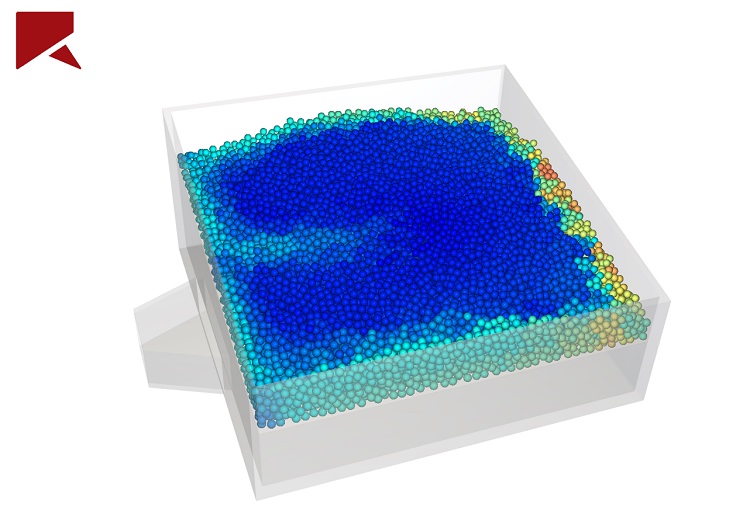 Jorge Ferreira confirms the relevance of the partnership: "We are very happy to work with a research and development institute like NRI offering a tool to help accelerate the development of technologies for food and nutrition initiatives. ESSS has been in this market for 25 years and has been investing a lot in software development to offer a solution that goes beyond DEM, as a multi-physics simulation approach."
Dr Precoppe believes that the Rocky DEM capabilities will benefit the University as a whole, especially the Wolfson Centre, a unit that specialises in handling of bulk material, and students from the chemical engineering and pharmacy faculties could also benefit from learning how to use the software.