Published on: August 4, 2022
Anchored by the release of native SPH-DEM solver, Rocky 2022R2 further accelerates Rocky's adoption to particle dynamics applications beyond traditional Discrete Element Method (DEM).

In addition, the current version offers new capabilities and enhancements aimed to improve usability and performance. The release highlights include:
Full release of the Smoothed Particles Hydrodynamic (SPH) feature for modeling slurry and other particle-laden free surface flow applications combining SPH and DEM methods
Performance enhancement for simulating complex concave shapes with heterogeneous material properties
Usability improvements for setup and post-processing of applications with complex motion frames
Expanding CFD-DEM capabilities in multiple areas, including supporting dynamic remeshing of Ansys Fluent in coupled calculations
August 4th, 2022: ESSS announces Rocky 2022R2, the new release of its best-in-class multiphysics particle simulation software. This version delivers new SPH-DEM functionality and offers new capabilities and enhancements to further improve usability and performance.
The official release of the native Smoothed Particles Hydrodynamic SPH-DEM coupled solver kernel offers solutions for industrial applications involving slurries and other types of solid-liquid free-surface flows. The solver can also take into account heat transfer exchange between fluids, particles, and boundaries and is native to both multi-GPUs and multi-CPUs.
For simulation of complex concave particles, 2022R2 extends the unique capabilities of the Particle Assembly model to create a single particle from combination of multiple particles with different material properties. Each sub-particle can have its own shape and its own stiffness, friction, heat conductivity, etc. This functionality enables simulation of many discrete parts for manufacturing. For example, many electrical component assemblies are made of different materials, such as plastic, rubber, and metal and they can be modeled in a real way with Rocky.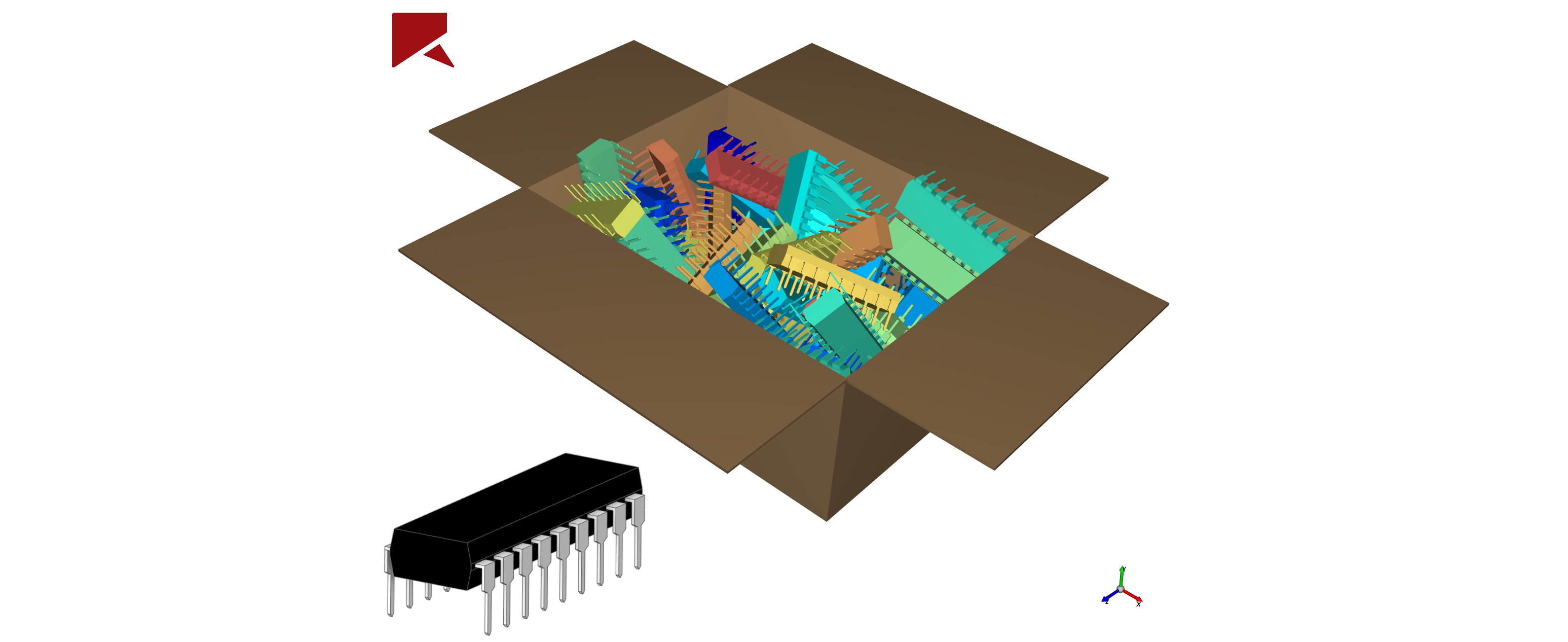 The new release also further improves simulation workflow while maintaining flexibility for post-processing of applications involving complex motion frames. New setup options eliminate the need for scripting used in previous versions and can be done with a just few clicks. As an example, post-processing entities can be linked to motion frames, making it easier than ever to extract data while following geometries or particles, even for complex movements.
For coupled CFD-DEM simulations, Rocky 2022R2 allows the CFD solver (Ansys Fluent) to dynamically refine and/or coarsen the mesh based on geometric and numerical solution data. The solution-adaptive mesh refinement speeds calculations while providing accurate results with adequate grid resolution.
The 2022R2 brings a range of new functionalities and performance improvements. The release of the SPH-DEM native solver is the latest installment of the market-leading technologies that make Rocky a new platform for modeling wide range multiphysics discrete solid mechanics problems beyond traditional DEM applications. To learn more, visit www.rocky-dem.com or contact us today.
About ESSS
Engineering Simulation and Scientific Software (ESSS) is an innovative international provider of engineering simulation products and services operating in more than 10 countries. With over twenty-five years of experience and over 200 employees, ESSS is a well-established Ansys channel partner. In addition, ESSS develops new simulation tools, runs the ESSS institute, and drives broader adoption of customized CAE solutions in the energy industry. Visit https://www.esss.co or https://rocky.esss.co for more information.