Published on: August 2, 2021
Rocky DEM 4.5 simulation software is accelerating engineers' use of particle modeling through improved computational speed, solver flexibility, and deeper integration with Ansys


Fast solutions
Rocky 4.5 offers impressive speed across the board when compared to previous releases, with as much as 10x gains in calculation time.

Extended and deeper integration
Rocky 4.5 deepens integration with Ansys simulation software. Additional and new capabilities are available in four major areas: Multibody Dynamic (Ansys Motion), CFD-DEM (Ansys Fluent), Design Exploration (Ansys optiSLang), Simulation Data Management (Ansys Minerva).

Expanded Solver API
Over 30 new, ready-to-use modules have been added to the existing API library.
ESSS announces the newest release of its powerful Discrete Element Modeling software – Rocky DEM 4.5. This release delivers significant advances in solving particle dynamics engineering problems, enabling much faster solution of applications with large numbers of particles. Rocky DEM 4.5 also expands the innovation possibilities of particle-laden systems through expanded integration with Ansys simulation software, further supporting customers' digital engineering strategies.
Release highlights include:
Increased ability to simulate free and rigid body motion through coupling with Ansys Motion multi-body dynamic software, helping engineers account for flexible components, kinematic forces, and link chains. Together with Ansys Motion, Rocky 4.5 performs analyses that consider the stress and deformation of flexible body components.
Expanded CFD-DEM capability now includes a broader range of particle-fluid applications, plus solutions for flows where particles are much larger than CFD mesh, all in a well-integrated workflow with Ansys Fluent.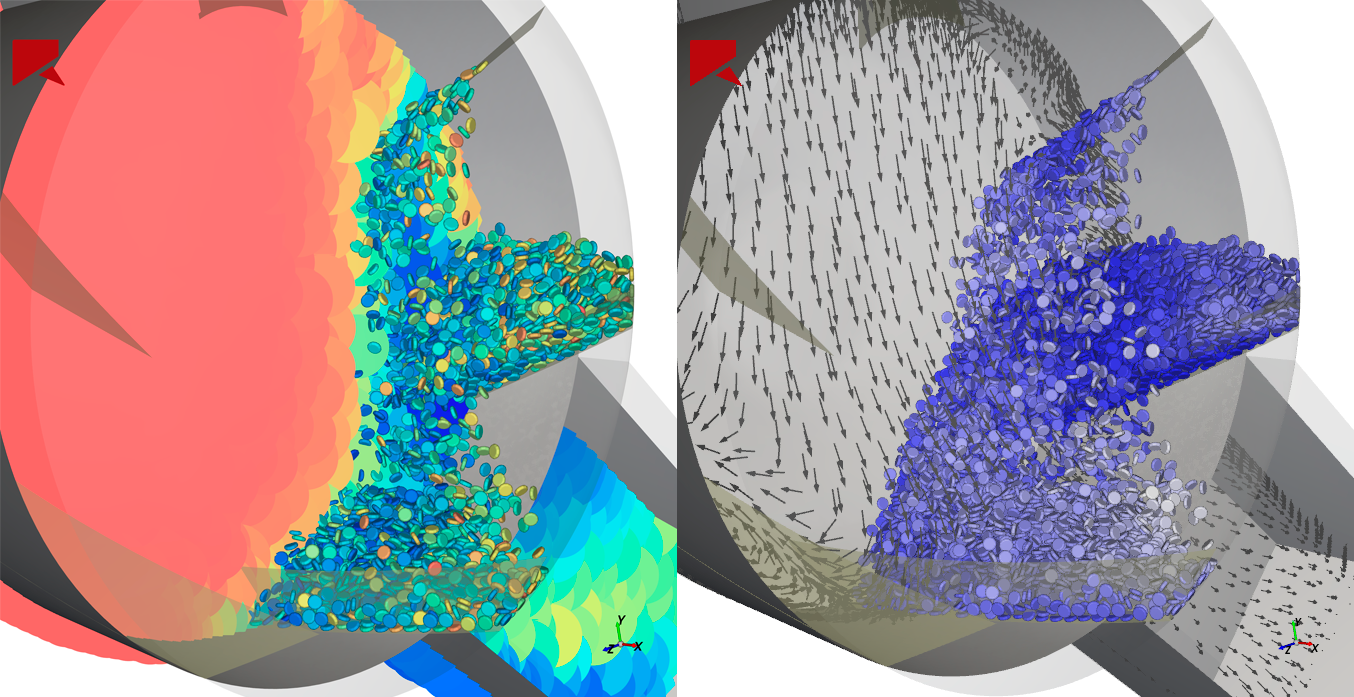 Seamless integration with Ansys optiSLang supports model calibration and enables large-scale design exploration for design optimization and verification. In addition, Rocky users can now generate reduced order models (ROMs) for their process simulations to implement digital twins in Ansys Twin Builder and on a variety of software and hardware platforms.
Integration with Ansys Minerva for efficient simulation processes and data management.
Multi-CPU and multi-GPU improved performance and scalability for all applications. Performance tests for this new release showed impressive advancement across the board when compared to previous releases, with gains ranging from 50% to 1000%, depending on the application type.
Rocky 4.5 enables simulation of problems with a high number of small particles with high particle speed, as shown in this example of a cyclone separator with high solid loading.
Expanded solver API and GUI customization support, with an additional 30+ ready-to-use specialized physical modules. Rocky 4.5 expands the existing API library template available for customers to download. With additional exposure, users can do even more with Rocky, like working on their own breakage models and custom CFD coupling laws.
I am thankful for the support of our customers, our partners and the effort of our team in developing Rocky 4.5.

Clovis Maliska Jr, ESSS CEO
Maliska added, "Our focus has always been to solve particle dynamics problems in timelines that are acceptable to engineers, while delivering top performance on accuracy, capabilities, and deeper integration into our customers' simulation workflow using the Ansys software platform."
One example of this performance improvement is the coupling with Ansys Motion.
I'm very happy to see the integration between Ansys Motion and Rocky come alive! This coupling creates a new paradigm in modeling a broader range of complex multi-body dynamics problems in which particles play a crucial role. Thus, the accurate simulation provided by Rocky is paramount.

Professor DaeSung Bae, co-founder of Virtual Motion, now Ansys Motion
As an innovator in waste management, renewable fuels and chemicals, Enerkem relies on capable simulation technologies to support its operation and accelerate its development process.

Micael Boulet, Eng., Ph.D., Numerical Group Lead at Enerkem
"The Combination of Rocky and Ansys Fluent has given us access to an accurate and powerful simulation tool, and with release 4.5 we are looking to solve large, and complex coupled problems faster, while we take advantage of new physical models and modeling capabilities of Rocky 4.5." added Mr. Boulet.
The Rocky 4.5 integration with Ansys Minerva enables users to better manage their particle simulation data and easily collaborate by sharing project information between stakeholders.
Our vision of digital transformation at PepsiCo includes enabling and sharing the insights we learn from our modeling and simulation studies to help drive collaboration throughout the enterprise. Integration into simulation and data management software such as Ansys Minerva amplifies the value we derive from our DEM simulations.

Lei Zhao, R&D Director at PepsiCo
For more information, please join our Rocky DEM 4.5 launching event below, or visit www.rocky-dem.com.

About ESSS
Engineering Simulation and Scientific Software (ESSS) is an innovative international provider of engineering simulation products and services operating in more than 10 countries. With over twenty-five years of experience and over 200 employees, ESSS is a well-established Ansys channel partner. In addition, ESSS develops new simulation tools, runs the ESSS institute, and drives broader adoption of customized CAE solutions in the energy industry. Visit https://www.esss.co or https://rocky.esss.co for more information.