Published on: December 2, 2015
Rocky DEM, Inc. launched a new, more modern visual identity to better represent the evolution of both the company and its namesake simulation software. The updated logo and several new features, including 2-way coupling abilities with ANSYS Fluent, are integrated into the latest version of Rocky (3.9.0), which was released today.
Visual identity
The concept behind the new visual identity was based upon the core values of the Rocky DEM brand: precision, speed, and innovation. The new logo is formed from the breakage of a non-round particle, which represents two distinguishing features of the software: the ability to show how particles break upon impact, and the ability to create and simulate irregular geometries with speed and precision. The two broken pieces of the particle were then arranged to form the "R," which is the first letter of both the product and the company name. In this way, Rocky DEM has a cleaner visual representation that is at once strong, modern, and easy to recognize.

Particle breakage forming the "R" of the final logo
The studio in charge of the project, Schmelter Brand Design, kept the original red and gray colors and add a third color to form a gradient. "We believe that the new visual identity is more fitted to our strategy of producing increasingly realistic simulations that can be positioned as "state-of-the-art" in the world of DEM simulations," says Rahul Bharadwaj, Vice-President of Engineering and Business Development at Rocky DEM, Inc.

Final logo
The updated logo and branding elements are implemented on the www.rocky-dem.com website, and can also be seen in the latest release of the Rocky DEM software.
Software version 3.9.0 released
Version 3.9.0 of the Rocky DEM software was released today, bringing not only the new logo and branding elements, but also exciting new features and important improvements to existing functionality. In this release, the coupling capabilities between Rocky DEM and ANSYS Fluent have been extended from the previous 1-way to now include 2-way coupling, which enables particle simulation to be better combined with other physics such as structural and fluids. To learn more about the newly extended Rocky and ANSYS coupling features, click here.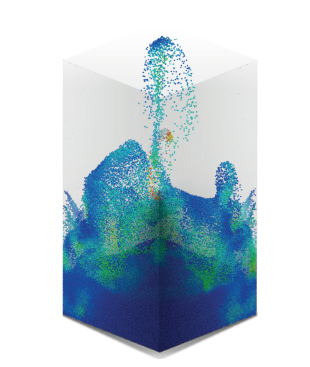 ANSYS Fluent and Rocky DEM 1-Way and 2-Way Coupling
In addition, this latest release includes a batch processing tool, which allows users to schedule the sequential processing of multiple simulations, each with specific settings. This feature enables engineers to optimize time spent preparing simulations by enabling them to run cases when out off the office or while the computer is not being used.