Published on: June 24, 2020
Rocky DEM users can now access an automated solution — called Calibration Suite — that helps to quickly and easily determine realistic particulate input parameters.
"Even the best engineering simulation products give inaccurate results if the parameters you define at the start don't reflect the real-life material properties of what you're investigating," according to Leon White Nogueira, MSc, ESSS CAE Application Specialist. "Without a discrete element material library for reference, the proper way to determine accurate DEM parameters is by conducting preliminary calibration or validation bench experiments."
Rocky DEM's Calibration Suite makes it easy to determine real-life input parameters. For example, the ring shear cell test calculates internal friction angle/flowability function for calibrating powdered material. Calibration entails performing several test cases to reach an ideal, specific set of parameters. Users who have ball-park measurements from a reference paper or previous simulations can run validation test cases just as easily. Rocky needs no external software to run the calibration. All processing is done within Rocky's single interface.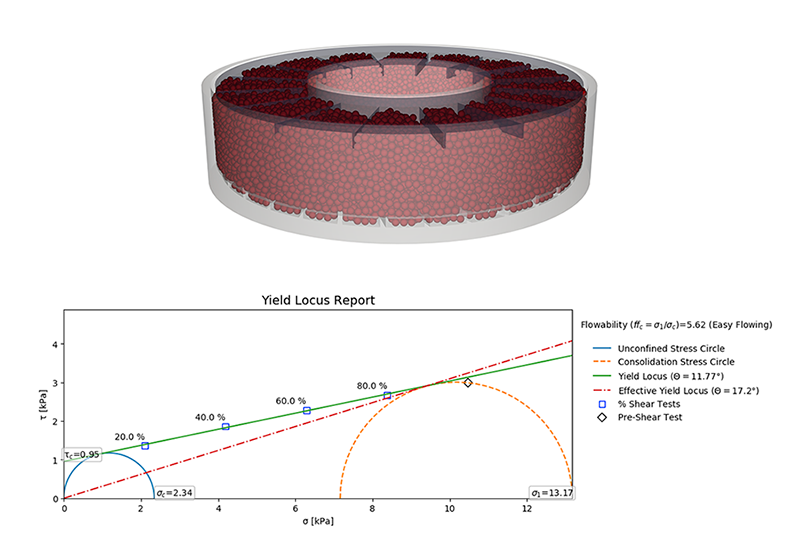 Because Calibration Suite it requires minimal user interaction, it especially benefits new users. After pressing the start button, prompts appear in the pop-up menu. The calibration then starts automatically.
For advanced users, the Rocky Calibration Suite incorporates an automatic post-processing script that uses advanced techniques to perform a high-level analysis of data. Plots show all values that need to be compared, such as angle of repose, average angles, standard deviation, and statistical error.
Rocky Calibration Suite is available in Rocky Customer Portal.